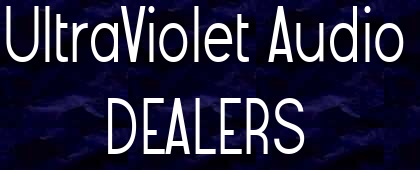 UltraViolet Audio is the exclusive distributor in the USA and Canada for all Opera Audio and Consonance products.

Our products are sold through our network of dealers across the USA and Canada. Over time, we will build a network of dealers we believe will represent the brand with the level of integrity and committment we will require. Our components are not available directly from us, and we are not a dealer. We do not compete with our dealers, we support our dealers.

Please Note:
Only authorized Opera Audio/Consonance dealers are able to provide new equipment to the high-end audio customer.

ANY individual or entity not listed on this page selling "new" Opera Audio/Consonance products in the North American market is NOT authorized by UltraViolet Audio as a dealer for Opera Audio/Consonance high-end audio equipment.

The purchase of components represented as "new" from such unauthorized parties is discouraged in the strongest possible terms.

In no way can we stand behind this equipment in terms of warranty or support. We cannot even guarantee its legitimacy. Of course, to protect our customers, our dealers, and ourselves, we reserve the right to request the receipt of sale of any component. Please understand the burden of proof in these matters will fall on the customer, so PLEASE purchase our products ONLY through our authorized dealers.

Thank you!





North America
Norvinz

Exclusive network for demonstrations and
sales of Cyber Series Monoblock amplifiers

Norm Ginsburg & Vinh T. Vu
info@norvinz.com
www.norvinz.com

California
AudioVision San Francisco

1603 Pine at Van Ness
San Francisco, CA 94109

(415) 614-1118 Phone

Antonio & Chris
info@audiovisionsf.com
www.audiovisionsf.com


Florida
Jim Gray Designs

3304 Wildwood Trail
Tallahassee, FL 32312

(850) 657 - WIRE (9473) Phone
(850) 894 - 6344 Fax

Jim Gray
jim@jimgraydesigns.com
www.jimgraydesigns.com


Florida
Magnum Opus Audio

1511 East Las Olas Blvd
Fort Lauderdale, FL 33301

(954) 623-7243 Phone
(954) 234-2993 Fax

Andrew Byer
andrew@magnumopusaudio.com
www.magnumopusaudio.com


Manitoba - Canadian Dealer
6 Sons Audio

85 West Gate
Winnipeg, MB R3C 2C9
(204) 770 - 2341 Phone
(204) 783 - 1677 Fax

Gary Clarke
gc.6sonsaudio@shaw.ca
www.6sonsaudio.ca


Maryland
Soundscape

406 West Cold Spring Lane
Baltimore, Maryland 21210

(410) 889-1134 Phone

Ed & John Dorsey
info@soundscapemd.com
www.soundscapemd.com


Montana
Big Sky HiFi, Inc.

P.O. Box 1611
Whitefish, MT 59937

(406) 862 - 1150 Phone

John Shigo
john@bigskyhifi.com
www.bigskyhifi.com


New Jersey
Hudson Audio

10 Manor Road
Harrington Park, NJ 07640

(201) 768 - 0672 Showroom
(201) 768 - 6986 Service & Manufacturing
(201) 768 - 3073 Fax

Tom Hills
HUDS143@aol.com
www.hudsonaudio.com


New York
Audiofeil International

9405 Meriul Lane
Clarence Center, NY 14032

(716) 400 - 6177 Telephone
(716) 741 - 4224 Fax

Bill Feil
audiofeil@audiofeil.net
www.audiofeil.com


Pennsylvania
The Cable Company

127 Union Square
New Hope, PA 18938

(800) FATWYRE 1 Telephone
(215) 862 - 4871 Fax

Robert Stein
cable@thecableco.com
www.thecableco.com


Pennsylvania
STO Sound & Vision
aka The Stereo Trading Outlet

320 Old York Road
Jenkintown, PA 19046

(215) 886 - 1650 Telephone
(215) 886 - 2171 Fax

Mike Leshner
tsto@tsto.com
www.tsto.com


Virginia (DC Metro area)
Deja Vu Audio

1401 Chain Bridge Rd
Suite 203
McLean, Virginia 22101

(703) 734 - 9391 Telephone

Vu Hoang
info@dejavuaudio.com
www.dejavuaudio.com




Dealer Inquiries Welcome





© 2007 UltraViolet Audio LLC
853 Hamilton Drive
Lafayette Hill, PA 19444
TRELJA@ultravioletaudio.com