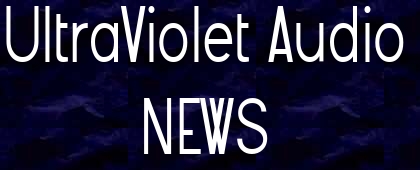 October, 2007: New warranty policy

Certainty in uncertain times

Our components are known for being great sounding, well-built, and offering exceptional value. The prices prove the value, and we certainly hope you'll give them a listen to understand the great sounding part.

Now, let us prove to you how confident we feel in terms of the well-built part. For the details, please check out our Warranty/Service page



October, 2007: UltraViolet Audio debuts piano black lacquer at RMAF

NOTHING says elegance in quite the same way as a properly executed piano black lacquer finish. And, I do mean, nothing!

As we showed at the Rocky Mountain Audio Festival, just about any of our Consonance products featuring wood are now available in piano black lacquer. Yes, that's right, the Reference Series, Cyber Series tube monoblocks, as well as the famous Droplet CD players.

The mini Droplet in piano black lacquer and volume control made its debut at RMAF.

The result? Well, just this once, because we all know that photos simply cannot do justice to the look, you'll have to trust us.

To say it looked like a million bucks would be apropos. In fact, pardon the pun, but it was simply show stopping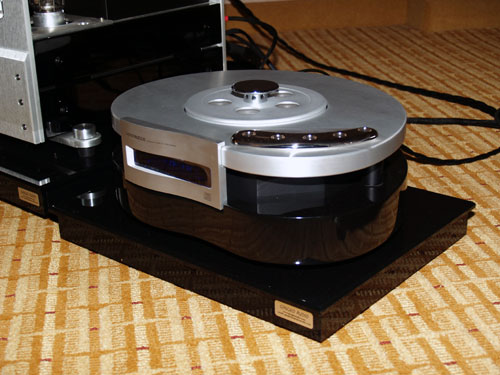 mini Droplet in stunning piano black lacquer!



July, 2007: Black is the new black

Wait a minute, I thought SILVER was the new black?!?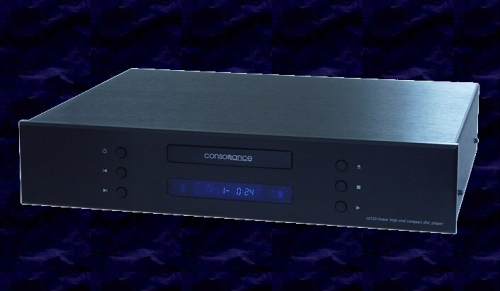 Yeah, well, if you happen to think that black is beautiful, please keep in mind that many of our products are available in black. How many? Well, the A100 Linear, A120 Linear, CD120, and CD 120 Linear (pictured above) for starters.


Anything else?

Yes, the Reference products (CD players, preamps, and integrateds), Reference CD 2.2 MKII (pictured left), are special order with black metal top.


That's hot! No, that's cool!!!


June, 2007: Consonance introduces the Cyber 10 multifunction tube amplifier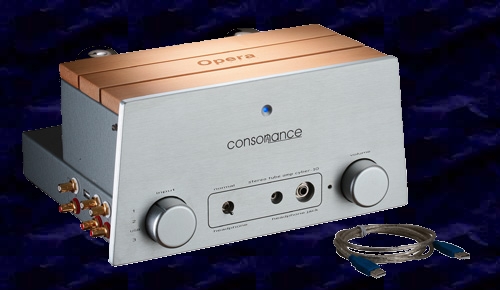 It's a bird! It's a plane! It's a uh, uh, a multifunction amplifier!

Yeah, that's right, the Cyber 10 multifunction amplifier.
USB input? Check
Headphone amplifier with 1/4" and 1/8" output jacks on the front panel? Check
Switchable between 8 wpc triode and 12 wpc ultralinear operation? Check
Able to power a reasonably efficient (let's not get crazy here) pair of loudspeakers? Check
Runs on KT88 (included), 6550, KT77, 6CA7, EL34, KT66, 6L6, or 5881 output tubes? Check
Need more info? Just ask us...

May, 2007: Cyber 211 tube monoblocks win coveted Blue Moon Award from 6moons.com


Reading our website will tell you that we consider our Cyber Series tube monoblock amplifiers to be truly reference quality high-audio components. Having heard them previously many times in various systems, yet coming away nonplussed, you can imagine our surprise once we began evaluating them in our own systems, with the right ancillary components and proper, careful system setup.

Frankly, the honest to Pete truth is that we were flat out shocked by their performance.

When their value for money quotient is figured into the equation, it just leaves me dumbfounded. I'll put my reputation on the line every day of the week when it comes to the level of sound you will get out of these products. At their price points, there simply is no competition.

Our mission is to be the evangelists for these products! We'd like to show YOU, our customers, what we have become so happy to have found out ourselves. All we ask is that you give us the opportunity to let you hear them, and that you approach things with open heart, mind, and ears.

Read the review here


| | |
| --- | --- |
| | We believe so strongly in these products that I have decided to grant exclusive rights of selling them to Norvinz, which brings a new and refreshing way of auditioning and buying high-end audio components. What it gives us is the ability to let you hear these products in systems we believe in, with reference level ancillary components, in properly set-up systems (ever notice how you sometimes visit a dealer, and know that you're not hearing all a component can give because of poor component synergy or system setup???). All so that you can hear all they truly offer! |
| | |
| --- | --- |
| Regardless of whether you agree, disagree, or do not care about the conclusions, I hope it's evident that John Potis is an incredible reviewer. His reviews display what I consider the ideal balance between usable content and an entertaining writing style. Not too dry/technical, nor too flowery/uninforming, I personally think he's probably the best out there right now! | |


May, 2007: Consonance introduces the mini Droplet 3.1 CD player

Honey, I shrunk the Droplet!!!

The success of the 6moons.com Blue Moon Award winning Droplet cannot be questioned. It's the flagship CD player of Consonance. And, what's not to like? You get bold and beautiful cosmetics, 2 6H30 Supertubes in the output stage, RCA and XLR outputs (both variable - no preamp needed for those using a CD only system) all in a top-loading CD player. The smooth, full-bodied sonics are the antithesis of "digital" sound.

Now, for those who simply cannot site the mammoth Droplet, we are proud to offer the new mini Droplet 3.1 CD player. Same great styling, in a smaller, more affordable package. The solid-state output mini Droplet upsamples to 768 KHz

The mini Droplet (obviously!) on the left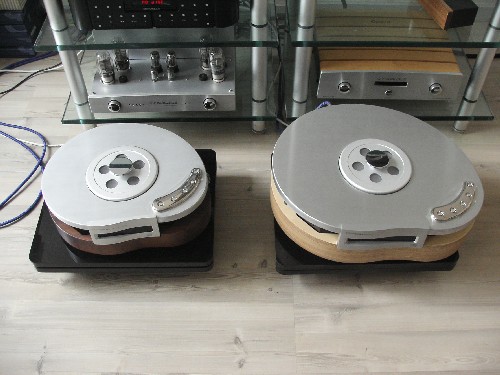 May, 2007: Opera Audio/Consonance introduces new products at the 2007 Munich HiFi Audio Show

Opera Audio/Consonance made a huge splash in Munich with the new products it launched. The Forbidden City Series saw a lot of news, in particular. With the exception of the Turandot CD player, the entire series is all new. Here are a few photos of the new products:

Consonance really has jumped on the non-oversampling bandwagon in a big way when it comes to digital players. The reason? Well, the openness, pace, and excitement factor are there in spades. Say what you will, but the new Orfeo CD player really shows off how very smart the new Forbidden City products look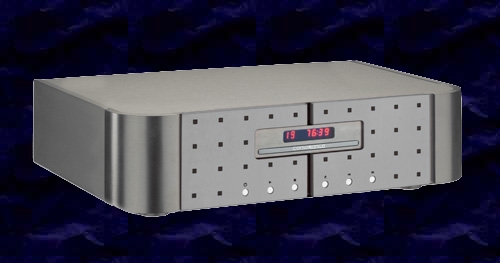 Mating perfectly with the Orfeo CD player is the Tristan integrated amplifier. Same great styling in a 100 wpc unit with built in MM/MC phono stage

For you analog lovers who are also devotees of the avant-garde Forbidden City line, you are in for a real treat. No, sir, we didn't forget you, that's for sure. Check out this little number with outboard motor and graphite tonearm! It's the Liu turntable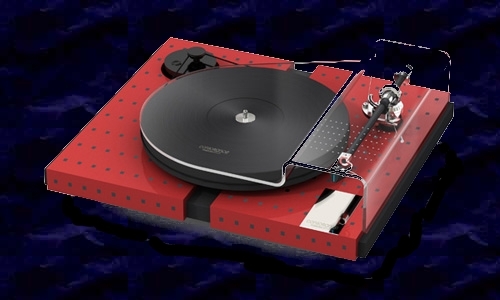 You may have to check the calendar to remind yourself it's not Christmas, because the bounty of new stuff stretches across almost the entire Forbidden City lineup. Here are the details...


| | |
| --- | --- |
| Think of the new Ping as the combination CD player, integrated amplifier, and USB input / PC interface as the Forbidden City meets Generation Y | |
| | |
| --- | --- |
| | The high-powered Calaf integrated amplifier is now fully solid-state, and has upped the reliability ante considerably |


April, 2007: UltraViolet Audio announces new pricing structure for Opera Audio/Consonance products in the USA & Canada

Check out our PRODUCTS page for all of the details

March, 2007: UltraViolet Audio will be teaming up with our partner, Norvinz, at the 2007 Festival Son & Image in Montreal, Quebec, Canada, from April 13 - 15

Norvinz will be presenting a system comprised of the Merrill Scillia Research turntable and phono preamplifier, Consonance CD player, Channel Islands passive preamplifier, Opera Audio Cyber 211 amplifiers, and Lammhorn loudspeakers.





March, 2007: UltraViolet Audio is pleased to announce its alliance with Norvinz

A partnership between Norm Ginsburg and my longtime friend, Vinh Vu. Norvinz represents the typical "out of the box" perspective Vinh applies to most situations he encounters. Norvinz brings an entirely new way of marketing and selling high-end audiophile components to a market that has long been searching for an "alternative".

I believe in the potential of the Norvinz business model so much that they will have the exclusive rights to our Opera Audio Cyber Series monoblock power amplifiers.


Cyber 800 tube monoblock power amplifier
Cyber 845 tube monoblock power amplifier
Cyber 211 tube monoblock power amplifier
Cyber 300B tube monoblock power amplifier
Cyber 300BD tube monoblock power amplifier
Cyber 300B PSE tube monoblock power amplifier
Norvinz will allow our customers a unique way of being able to see and hear what we consider to be reference quality tube amplification at prices that will surprise many an audiophile





February, 2007: UltraViolet Audio has assumed the responsibility of being the sole importer and distributor for all Opera Audio/Consonance high-end audio products in the USA and Canada.

UltraViolet Audio as well as Opera Audio/Consonance would like to take this opportunity to thank the former distributor Stephen Monte at Quest For Sound for his hard work and dedication in the role over the past 3 years. Stephen & Quest For Sound will be continuing on as a dealer for Opera Audio/Consonance.




© 2007 UltraViolet Audio LLC
853 Hamilton Drive
Lafayette Hill, PA 19444
TRELJA@ultravioletaudio.com